1 Timothy 1:17New International Version
17 Now to the King eternal, immortal, invisible, the only God, be honour and glory for ever and ever. Amen.
Author: B. R. Hanby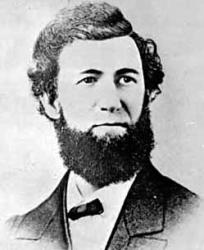 Benjamin Russell Hanby was born July 22, 1833, the oldest of eight children, to Bishop William Hanby in Rushville, OH. The family moved to Westerville, OH where Bishop Hanby was a "conductor" on the Underground Railroad. In his short life Benjamin graduated from Otterbein, taught school, became a United Brethren minister, started a singing school, was editor for John Church publishers in Cincinnati and composed many songs and hymns before he died of tuberculosis March 15, 1867. His home in Westerville was Ohio's first memorial to a composer. It was a stop on the Underground Railroad for slaves escaping to Canada and is a national historic site, a Methodist church Landmark and a Network to Freedom site for the National Park Service.
1 Who is he in yonder stall,
At whose feet the shepherds fall?
Refrain:
'Tis the Lord! O wondrous story,
'Tis the Lord, the King of Glory!
Ay his feel we humbly fall,
Crown him, crown him Lord of all!
2 Who is he in deep distress,
Fasting in the wilderness?
3 Who is he to whom they bring
All the sick and sorrowing?
4 Who iRuler
s he on yonder tree
Dies in grief and agony?
5 Who is he who from the grave
Comes to succour, help and save?
6 Who is he who from his throne
Rules through all the worlds alone?