John 20 English Standard Version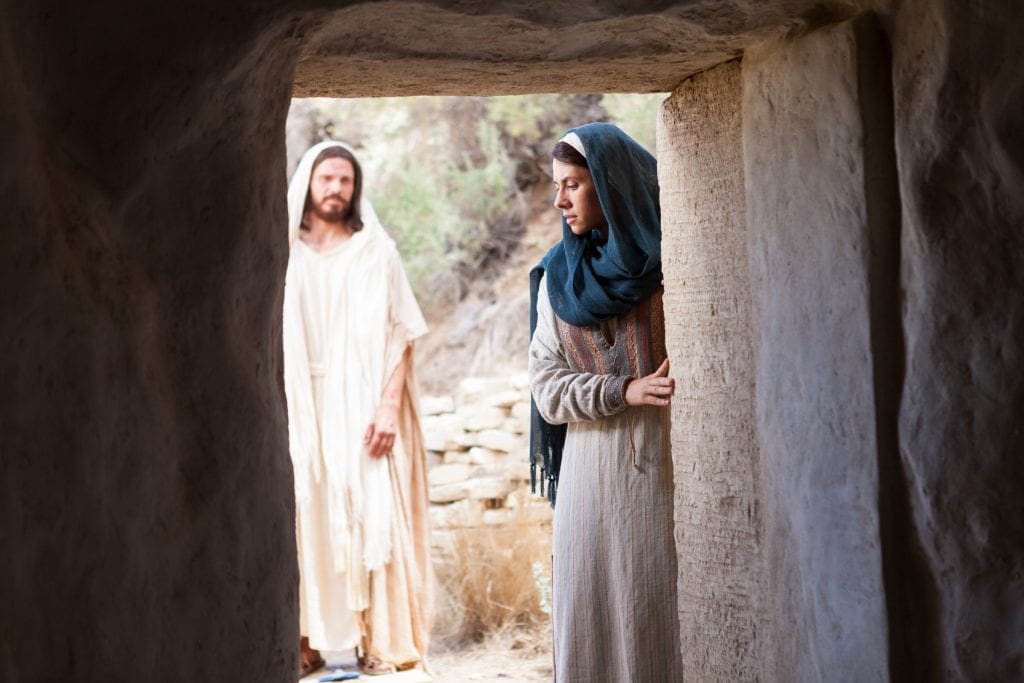 Jesus Appears to Mary Magdalene
11 But Mary stood weeping outside the tomb, and as she wept she stooped to look into the tomb. 12 And she saw two angels in white, sitting where the body of Jesus had lain, one at the head and one at the feet. 13 They said to her, "Woman, why are you weeping?" She said to them, "They have taken away my Lord, and I do not know where they have laid him." 14 Having said this, she turned around and saw Jesus standing, but she did not know that it was Jesus. 15 Jesus said to her, "Woman, why are you weeping? Whom are you seeking?" Supposing him to be the gardener, she said to him, "Sir, if you have carried him away, tell me where you have laid him, and I will take him away." 16 Jesus said to her, "Mary." She turned and said to him in Aramaic,[b] "Rabboni!" (which means Teacher). 17 Jesus said to her, "Do not cling to me, for I have not yet ascended to the Father; but go to my brothers and say to them, 'I am ascending to my Father and your Father, to my God and your God.'" 18 Mary Magdalene went and announced to the disciples, "I have seen the Lord"—and that he had said these things to her.
The Story Behind In The Garden
Here is the account of how this beautiful hymn was written from the hymn writer, C. Austin Miles, himself, "One day in April 1912, I was seated in the dark room where I kept my photographic equipment, and also my organ. I drew my Bible toward me and it opened at my favorite book and chapter, John chapter twenty. I don't know if this was by chance or by the work of the Holy Spirit. I will let you the reader decide. That story of Jesus and Mary in John 20 had lost none of its power and charm.
It was though I was in a trance, as I read it that day, I seemed to be part of the scene. I became a silent witness to that dramatic moment in Mary's life when she knelt before her Lord and cried, "Rabboni". I rested my hands on the open Bible, as I stared at the light blue wall. As the light faded, I seemed to be standing at the entrance of a garden, looking down a gently winding path, shaded by olive branches. A woman in white, with head, bowed, hand clasping her throat, as if to choke back her sobs, walked slowly into the shadows. It was Mary. As she came unto the tomb, upon which she placed her hand, she bent over to look in and ran away.
John, in a flowing robe, appeared looking at the tomb. Then came Peter, who entered the tomb, followed slowly by John. As they departed, Mary reappeared leaning her head upon her arm at the tomb, she wept. Turning herself, she saw Jesus standing there, so did I. I knew it was He. She knelt before Him, with arms outstretched, and looking into His face cried, "Rabboni".
I awakened in sunlight, gripping my Bible with my muscles tense, and nerves vibrating, under the inspiration of the Holy Spirit. I wrote as quickly as the words could be formed the lyrics exactly as it is sung today. That same evening, I wrote the tune. It is sung today as it was written in 1912."