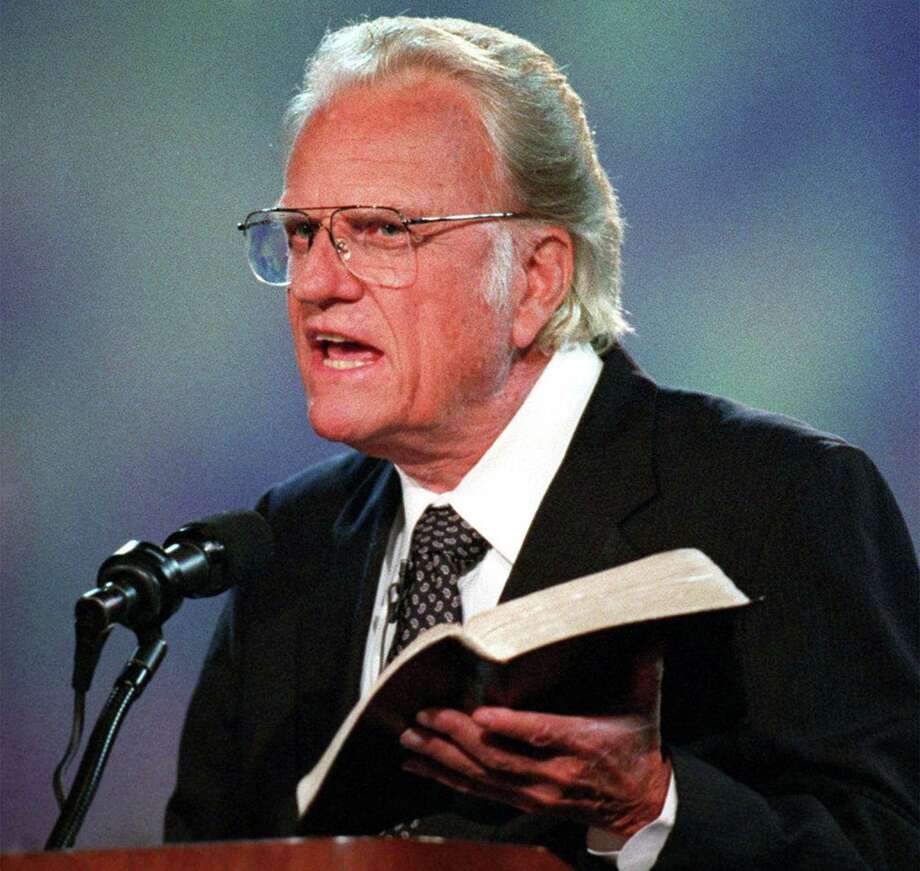 Billy Graham was an evangelist at revival meetings, and on radio and television for over 40 years.
Religious figure and Christian evangelist Billy Graham was preaching at an L.A. revival and was a guest on Stuart Hamblen's radio show in 1949. The publicity made Graham a superstar and he began broadcasting his sermons globally. Though detractors criticized Graham for being too liberal, one Time reporter dubbed him "the Pope of Protestant America." Graham retired in 2005 and later died at his North Carolina home on February 21, 2018, at age 99.
Early Life
William Franklin Graham, Jr. was born on November 7, 1918, in Charlotte, North Carolina, to parents William and Morrow Graham. Graham was the first of four children raised on the family's dairy farm in Charlotte. In hindsight, there was little indication that Graham would one day preach the Christian gospel to as many as 215 million people in live audiences over 185 countries. Graham has been credited with preaching to more individuals than anyone else in history, not counting the additional millions he has addressed through radio, television and the written word.
While Graham's parents were strict Calvinists, it would be an unfamiliar traveling evangelist who would set Graham on a profound spiritual path. At the age of 16, Graham attended a series of revival meetings run by evangelist Mordecai Ham. Despite the fact that Graham was a well-behaved adolescent, Ham's sermons on sin spoke to young Graham. After high school, Graham moved to Tennessee to enroll in the conservative Christian school, Bob Jones College. However, he felt disconnected from the school's rigid doctrine and soon transferred to the Florida Bible Institute. While in Florida, Graham joined a Southern Baptist Convention church, where he was ordained in 1939.
After graduating from the Florida Bible Institute with a bachelor's in theology, Graham moved to Illinois and enrolled at Wheaton College for further spiritual training. He also met his future wife, Ruth McCue Bell, at this time. Bell was the daughter of a missionary and lived with her family in China until she turned 17. After graduating with a bachelor's in anthropology, Graham and Bell were married on August 13, 1943. They would eventually raise five children together.
Superstar Preacher
Graham briefly pastored the First Baptist Church in Western Springs, Illinois, before leaving to join Youth for Christ, an evangelical missionary group that spoke to returning servicemen and young people about God. In 1947, Graham became president of Northwestern Schools, a group of Christian schools in Minnesota. In 1948, he resigned from Youth for Christ and focused on Northwestern Schools until 1952, when he resigned to concentrate on preaching.
It did not take long for people to identify with Graham's charismatic and heartfelt gospel sermons. In 1949, a group called "Christ for Greater Los Angeles" invited Graham to preach at their L.A. revival. When radio personality Stuart Hamblen had Graham on his radio show, word of the revival spread. The publicity filled Graham's tents and extended the revival for an additional five weeks. At the urging of newspaper magnate William Randolph Hearst, papers around the nation covered Graham's revival meetings closely.
As a consequence, Graham became a Christian superstar. Sociologically it is believed that Graham's success was directly related to the cultural climate of post-WWII America. Graham spoke out against the evils of Communism—one of the biggest fears threatening the American consciousness. In a 1954 interview, Graham stated, "Either communism must die, or Christianity must die, because it is actually a battle between Christ and anti-Christ." With the advent of nuclear weapons and the demonstrated fragility of life, people turned to spirituality for comfort, and Graham illuminated their path.
Thus, Graham helped bind together a vulnerable nation through a religious revival. By glazing over the finer details of Christianity and focusing on more moderate doctrines, Graham made evangelism enticing, non-threatening, even easy — and the media made his messages accessible to the masses.
Televangelist
To expand and maintain a professional ministry, Graham and his colleagues eventually incorporated the Billy Graham Evangelistic Association (BGEA). Graham began broadcasting his sermons over the radio during a Christian show called Songs in the Night. Once a week he also hosted a program called The Hour of Decision, a program ABC initially transmitted to 150 stations before reaching its peak of 1,200 stations across America.
Eventually, this program was converted into a television show which ran for three years. The success of Graham's radio and television programs speak to his role as a Christian media visionary. Graham used the media as a means for spreading the gospel of Christ, allowing him to access millions of people around the globe.
With Graham's success, BGEA opened numerous international offices and started publishing periodicals, records, tapes, films and books. BGEA also accepted invitations from religious figures around the world to hold evangelical "crusades." Scouts would be sent to these cities to reserve a venue, organize volunteer choirs and arrange speakers. At the end of these events, audience members would be invited to commit to Christ and meet with volunteer counselors.