Childhood, Early Education and Training
The child of humble working-class parents (his father earned his living as a Cheapside warehouse manager) William Holman Hunt (he changed his name from Hobman Hunt on the discovery of the fact that a clerk had misspelled his name on his baptism certificate) was raised as a devout Christian, dedicating his early childhood to reading the Bible in its finest detail. This being Victorian England, Hunt began his working life aged just 12 as an office clerk. It would take a further five years before his parents agreed, albeit reluctantly, to his enrolment at the Royal Academy art school (in 1844). Once there, Hunt made the acquaintance of John Everett Millais and, a little later on, the painter and poet Dante Gabriel Rossetti.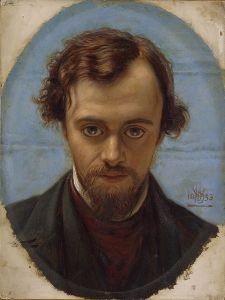 Hunt had already made his mark having exhibited at Royal Manchester Institution in 1845, and at the Royal Academy and the British Institution a year later, before the three men formed the Pre-Raphaelite Brotherhood – at Millais's modest townhouse on Gower Street in Bloomsbury, London – in 1848. The men had grown disenchanted by their experience at the Royal Academy, having taken collective issue with the seemingly entrenched codes of artistic convention; not least the current orthodoxy of working from dark to light. The Brotherhood aspired to a brighter, more dynamic style of painting, driven primarily by close attention to picture detail. Together, they rejected the scholarly conventions of painting in favor of an acutely observation-driven style of representation. Rossetti summarized the aims of the Brotherhood as follows: "1. To have genuine ideas to express; 2. to study Nature attentively, so as to know how to express them; 3. to sympathise with what is direct and serious and heartfelt in previous art, to the exclusion of what is conventional and self-parading and learned by rote; 4. and most indispensable of all, to produce thoroughly good pictures and statues".
A key stimulus on the Brotherhood project was the critical writing of John Ruskin. Ruskin, author of the book(s) Modern Painters (1843), was a renowned polemicist, moralist, and artist who had, most famously perhaps, championed the seven (tone, color, space, skies, earth, water and vegetation) "truths of natural form" in the expressive landscape paintings of J.M.W. Turner. (Much later, in 1880, Hunt, who was by now well known, wrote to John Ruskin praising him for the influence he had exercised over Hunt's own art. He explained to Ruskin how he had come to be possessed, not by Turner, but by the poetry of John Keats, and how he (Hunt), under Ruskin's influence, had come to regard Keats at a benchmark for the material reality he sought in his painting.) Hunt duly invested in the painterly ideal of a spiritual truth that would resound in material objects. It was from Ruskin indeed that Hunt derived the principle that it was not only good to depict things truthfully, it was also morally right. Thus, whereas previously Hunt had pursued a detailed, materially descriptive style, now he comprehended the way that material reality was the stuff of divine creation, and therefore indivisible from a sacred reality.
The Brotherhood lasted only about five years. Of the three founders it was Hunt who remained most committed to the ideals of the Brotherhood (Millais took over the presidency of the Royal Academy while the "amoral" Rossetti used his art to explore the beauty of the female form). In 1950 Hunt sold A Converted British Family Sheltering a Christian Missionary from the Persecution of the Druids to one Thomas Combe. Combe became Hunt's close friend and business adviser and two years later he sold Hunt's The Hireling Shepherd to the City of Manchester Art Galleries. Shepherds was significant because it was Hunt's first work to display his style of divine realism. Meanwhile, Hunt and Millais vacationed at a farm in Surrey in 1853 and it was here that the former produced his first masterpiece: The Light of the World.
Mature Period
A year later the artist left England for Egypt and the Holy Land. To mark his departure, Millais gifted his friend a signet ring. The ring, which Hunt wore for the rest of his life, would become an emblem of the men's life-long friendship. Hunt's expedition lasted two years during which time he visited the Great Sphinx of Giza and the Pyramids though he remarked later that "[t]heir only association that I value is that Joseph, Moses and Jesus must have looked upon them." For his painting The Scapegoat (1854–56), one of his signature pieces, Hunt travelled sixty miles outside Jerusalem where he found a suitably arid, desolate place for the setting of his painting. As he described it in his memoirs (published in 1905 and 1906) his own journey seemed to parallel that of the scapegoat in the picture, with Hunt the artist emerging as the hero of his own narrative. Indeed, Hunt returned to England in February 1856 sporting a voluminous beard. He saw the beard (as illustrated in William Blake Richmond's 1877 and 1900 portraits of the artist) as somehow prophetic and he was to present himself henceforward as an untamed artistic genius.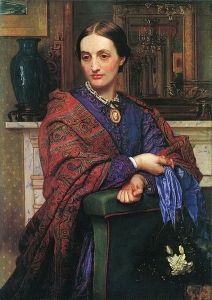 In 1865 Hunt married Fanny Waugh. The couple soon embarked on a tour of the Middle East in 1866 and it was while in quarantine in Florence that Fanny gave birth to a son. Their joy was short-lived however as Fanny lost her life to miliary fever. In 1868, Hunt returned to Florence to work on a memorial to Fanny (which beautifies the city's Protestant Cemetery to this day). Hunt journeyed to the Holy Land again in August 1869. This time his stay lasted five years, during which time he worked tirelessly on the detail for his painting The Shadow of Death. Hunt worked on the background to the picture while in Nazareth ("whence he could command a charming panorama of cultivated landscape and distant hills", according to his biographer A.C. Gissing). Indeed, the Holy Land exercised a huge pull on Hunt's romantic vision of the past, though by physically inhabiting the places he sought to represent through his art, Hunt was able to achieve the material accuracy he sought in his updated renderings of Biblical narratives.
Late Period
Hunt's self-styled piety was to be demeaned when he married Fanny's sister, Edith, in 1875. According to English law, it was illegal to marry the sister of one's deceased wife (the ceremony was conducted overseas) the legal consensus being that the new marriage constituted a form of incest. The couple duly took leave in Jerusalem where Hunt began work on The Triumph of the Innocents (1870–1903). At home meanwhile the scandal had caused considerable disquiet, especially within the Waugh clan, who considered it a stain on the family's proud history. Some fifty years on – perhaps as an act of familial 'revenge' – Evelyn Waugh, the novelist and great nephew of the Waugh sisters, published a monograph, not about Hunt, but rather on the artist's erstwhile colleague Rossetti.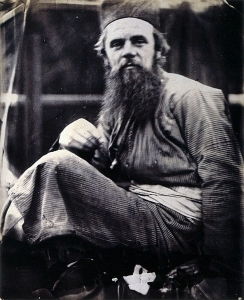 Though Hunt had exhibited regularly at the Royal Academy between the 1840s and 1860s, he made a definitive break with the organization in the 1870s. His final involvement with the Academy was in 1874, when he exhibited a portrait of his patron Thomas Fairbairn. Intriguingly, in the exhibition catalogue for that year he gave a split address, suggesting dual residence between 10 The Terrace, Hammersmith, and Jerusalem. He was living in Jerusalem in fact when the 1874 exhibition took place. Thereafter, Hunt preferred to exhibit at the Grosvenor Gallery and the New Gallery, both of which were aligned with an eclectic milieu of painters that ranged from other Pre-Raphaelites to (what Hunt saw as vain and 'foppish') aesthetes like J.A.M. Whistler.
Despite his advancing years, Hunt remained actively involved with art world politics during the 1880s. For instance, in 1886, with George Clausen and Walter Crane, he signed a letter lambasting the Royal Academy for its restrictive exhibition practices, while in the same year, with Ford Madox Brown, he established the Arts and Crafts Exhibiting Society. Though not directly affiliated with the Arts and Crafts Movement, the Society's intention was to facilitate the exhibition of "fine art" alongside a so-called "decorative art", including furniture and designs for stained glass windows. Hunt himself had paid special attention to the framing of his works throughout his career, treating his frames as iconographical extensions of the pictures that they contained.
Hunt's first career retrospective was held in London in 1886 and was complemented with a collection of articles on the Pre-Raphaelite Brotherhood in the Contemporary Review. Though future artistic undertakings were curtailed due to deteriorating eyesight and a serious asthma condition, Hunt visited the Middle East one last time in 1892. In 1905 he was awarded the Order of Merit and an honorary Doctorate of Civil Law by Oxford University. Following the publication of his memoirs in 1905-06, In 1907 his painting The Ship was purchased by a group of benefactors who presented the work to the Tate Gallery as a mark of respect, and to commemorate the artist's eightieth birthday. Hunt died in London in 1910.
The Legacy of William Holman Hunt
In a fate that befell other Pre-Raphaelite painters, Hunt's work fell from grace in the later decades of the nineteenth century. Though Hunt continued to work through this period, he had been long-since overtaken in the popular imagination by more youthful, frivolous, and less earnest forms of art. However, the dandyish aestheticism of J.A.M. Whistler – an artist who did so much to dent Hunt's reputation – was largely a response to the Pre-Raphaelites. Hunt, and the Ruskinian milieu in which he worked, were in fact central to later developments in art, not least because artists like Whistler, if they were to make a name for themselves at all, had to reject what had gone before. As is so often the case with art, however, the division between Hunt and Whistler's paintings was not so clear cut and in fact they merely define one another. Indeed, the two artists exhibited alongside each other on a number of occasions.
It was not until the early decades of the twentieth century however that Hunt started to excite the imagination of the new generation of painters. A retrospective held in 1906 and 1907, touring from London to Manchester, Liverpool and Glasgow, marked a revival of interest in his work. Certain works by painters like Harold Speed, such as in his 1905 portrait of the Arts and Crafts pioneer C.F.A. Voysey, suggest a debt of influence to Hunt. Other artists at this time, like Charles Ricketts and Charles Haslewood Shannon, (though their own preference was for Venetian painting and Tintoretto) seem to have absorbed Hunt's approach to history too, specifically through their debt to a hallowed pre-Raphaelite style. Though Hunt had various defenders in the twentieth century (including, conversely, Evelyn Waugh who owned works by him) Hunt's reputation would often languish due not least to the sweeping onset of modernism (in 1978, the Oxford Companion to Art stated in fact that "[m]ost of his works are now regarded as failures"). More recently, however, the ebb and flow of artistic taste has allowed for a critical revision of nineteenth-century British painting and in that context, Hunt emerges as one of its most revered sons.
Holmun Hunt also painted a picture of Jesus sanding outside a door knocking and I believe this can be seen in St Paul's Cathedral, London.
O Jesus, thou art standing,
outside the fast closed door,
in lowly patience waiting
to pass the threshold o'er:
shame on us, Christian brothers,
his Name and sign who bear,
O shame, thrice shame upon us,
to keep him standing there!
O Jesus, thou art knocking;
and lo, that hand is scarred,
and thorns thy brow encircle,
and tears thy face have marred:
O love that passeth knowledge,
so patiently to wait!
O sin that hath no equal,
so fast to bar the gate!
O Jesus, thou art pleading
in accents meek and low,
"I died for you, my children,
and will you treat me so?"
O Lord, with shame and sorrow
we open now the door;
dear Savior, enter, enter,
and leave us never more.